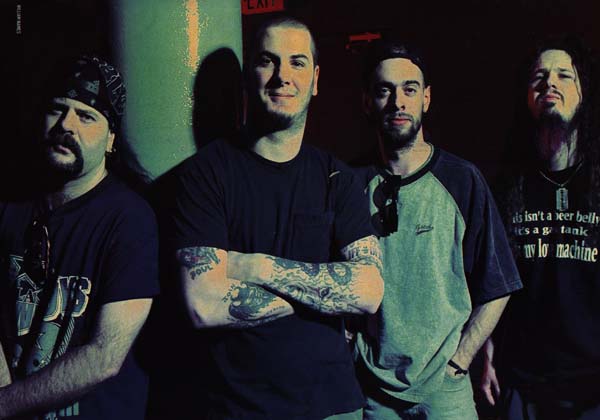 PANTERA
No band affected the metal world more so than Pantera during the early to mid-'90s. Beginning with its 1990 album Cowboys From Hell, the post-thrash band put to rest any and all
remnants of the '80s metal scene, almost single-handedly demolishing any notion that hair metal, speed metal, power metal, et al., were anything but passť. Sure, a lot of critics point toward Nirvana's "Smells Like Teen Spirit" and the subsequent alternative rock explosion as the death knell of '80s-style metal, but you could just as easily point toward Pantera. In fact, most metalheads do exactly that. Looking back, it wasn't like legions of dyed-in-the-wool headbangers suddenly cut their hair and began listening to Seattle grunge bands. Rather, a great many metalheads were heavily affected by the emergence of Pantera, especially the Vulgar Display of Power album, which was unlike any other metal album of the time, emerging as it did in 1992. That album in particular stood out at the time, slowing down the breakneck tempos of thrash and upping the heaviness quotient, as well as changing the vocal style, pushing it more toward hardcore or even grindcore. By the time Pantera unleashed Far Beyond Driven in 1994, they were the most popular metal band in the land, as the frenzy surrounding that Billboard chart-topping album testified. However, the band began to self-destruct around this same time as well. Drug abuse certainly played a role, with lead vocalist Phil Anselmo ODing on heroin at one point, for instance, and tensions within the band also playing a role in its ultimate, acrimonious dissolution. The final nail in Pantera's coffin came during the early to mid-2000s, when Anselmo began engaging himself in a multitude of side projects and when, very sadly, guitarist Dimebag Darrell was bizarrely murdered on-stage in late 2004. This much-publicized murder shone the spotlight back on Pantera for a brief moment, and amid all of the emotional outpours and media commentary, a consensus arose: Pantera had indeed been a landmark band, somewhat undervalued during their reign, with practically every contemporary metal band of the time openly paying tribute to their legacy.
Pantera's beginnings date back to the early '80s when the Texas-based band began releasing albums on the Metal Magic label. Originally, the band featured then-teenaged brothers Darrell Abbott (aka Dimebag Darrell and, for a short while, Diamond Darrell) and Vinnie Paul Abbott (aka Vinnie Paul), as well as Rex Brown (aka Rex Rocker) and Terrence Lee (aka Terry Glaze). They debuted in 1983 with Metal Magic, followed by Projects in the Jungle in 1984 and I Am the Night in 1985. Singer Phil Anselmo then replaced Glaze, and the group went on to record Power Metal, an album released in 1988 that eventually scored the group a deal with East West. While these '80s albums are no doubt curious to hear, it's fairly evident that this was a much different Pantera. For the most part, fans and surely the band treat Cowboys From Hell as Pantera's "official" debut album featuring the group's longtime lineup: Anselmo (vocals), Dimebag (guitar), Vinnie Paul (drums), and Rex Brown (bass). This album put Pantera on the national metal map, particularly thanks to songs like "Cemetery Gates" and the title track. Two years later, Pantera returned with Vulgar Display of Power and solidified their status as an up-and-coming metal band with a unique sound. It took a little while, but Vulgar Display of Power made serious waves among metalheads. MTV certainly played a role, putting the band's videos into relatively heavy rotation, but more than anything, positive word of mouth and explosive live performances did wonders for Pantera, who had a very unique sound for the time. When Far Beyond Driven hit the streets in 1994, Pantera had become the most popular band in the metal land. The album debuted atop the Billboard album charts -- quite a feat for such extreme music! -- and the band continued its seemingly never-ending string of tours, packing sports arenas across America.
When Pantera returned in 1996 with their next album, The Great Southern Trendkill, quite a bit had changed. They'd begun experimenting with their sound, slowing down their tempos and moving away from the relentless heaviness of Far Beyond Driven. The album also featured a very bitter, reactionary tone, with a heavy use of vocal overdubbing. (Anselmo's vocals were notably recorded at Trent Reznor's studio, and are quite demonic at times.) Moreover, Anselmo wrote quite a bit about drug abuse in songs like "Suicide Note" and "Living Through Me (Hells' Wrath)," no doubt alluding to the personal demons and tensions that had begun pulling the band apart. Partly as a result of such experimentation and personal abandon, Trendkill may indeed be Pantera's most curious album. In any event, reactions from fans and critics were mixed, and sales fell. It would be four years before Pantera released another studio album, releasing a stopgap live album in 1997, the fierce Official Live: 101 Proof. During this long interim, rumors swirled and Anselmo further distanced himself from the band, participating in various side projects, among them Down, with which he experienced quite a bit of success. Pantera did reunite, however -- one last time -- for Reinventing the Steel, which was released in 2000 and, like The Great Southern Trendkill, didn't come close to matching the impact of Far Beyond Driven. By this point the band's following had dwindled, and the metal landscape had undergone serious changes with the emergence of alt-metal bands like Korn and Tool, not to mention the likes of Marilyn Manson and Limp Bizkit.
And that would be the end of Pantera, with the token greatest-hits albums and whatnot appearing now and then. In the years to follow, the bandmembers busied themselves with side projects, most notably the host of bands fronted by Anselmo. His projects included, among other endeavors, Down, Superjoint Ritual, Viking Crown, and Southern Isolation -- none of which bore much resemblance to Pantera. Meanwhile, Dimebag and Vinnie Paul formed Damageplan, a fairly stable band that sought to pick up where Pantera had left off. In fact, they even played some Pantera songs during their live shows. Following the release of their debut album, New Found Power, and some club shows, Damageplan met a tragic end on December 7, 2004. That night -- 24 years after John Lennon's shooting to the day! -- a homicidal fan shot Dimebag at a small club show in Columbus, OH. The band hadn't gotten more than a song into its show before the murderer breached security, jumped on-stage, and shot the guitarist numerous times at point blank, murdering a few others in the process. The tragedy was big news in the States, grabbing headlines everywhere the day afterward. For a sad moment that day, the spotlight shone once again on Pantera, arguably the greatest metal band of the '90s and, no doubt, one of the greatest and most influential metal bands ever.
~ Jason Birchmeier, All Music Guide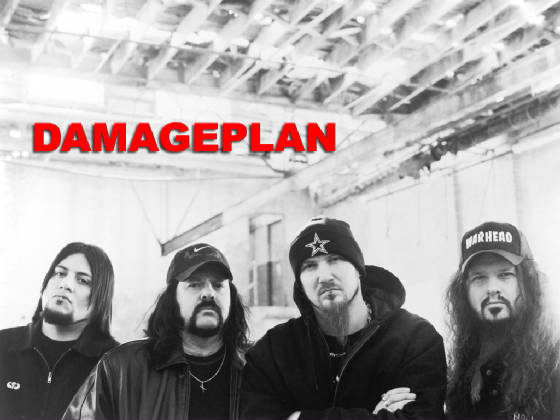 DAMAGEPLAN
Dimebag Darrell and Vinnie Paul started forming up
Damageplan in early 2003, soon after the demise of their previous band, thrash metal heroes Pantera. The brothers began working on tracks at Dime's Dallas home studio, unsure of exactly what they'd do with the material, but determined to banish the bad taste of Pantera's awkward breakup. Ex-Halford and -Diesel Machine guitarist (and full-time Dime pal) Pat Lachman heard the demos and expressed interest in singing for the project. While he'd never served as a frontman, Lachman's performances over the raw material were strong enough to land him the vocalist position. The lineup was completed with the addition of local bassist Bob Kakaha, who was immediately dubbed Bob Zilla for his monstrous tone, and the quartet began hashing out the new material under the working title of New Found Power. By October 2003 they'd decided on Damageplan, with New Found Power becoming the name of their Elektra debut. The album dropped in February 2004 to considerable buzz, mostly from Pantera's existing fan base. Longtime fans weren't disappointed as New Found Power did echo Dime and Vinnie's previous work. But it moved in new directions too, exploring more melodic post-grunge avenues and tinging its sound with slight elements of nu-metal's electronic throb. New Found Power did well through the summer, buoyed by a solid round of dates from the band. But tragedy struck on December 8, 2004 at the Alrosa Village rock club in Columbus, Ohio, when Dimebag Darrell and three other men were murdered in a bizarre and unfortunate altercation with a disgruntled fan. A man appeared on stage with a gun just after the beginning of Damageplan's set and, after allegedly making comments laying blame for Pantera's breakup on Dimebag, shot and killed the guitarist at point blank range. The assailant, later identified as 25-year old Marysville, Ohio resident Nathan Gale, killed three other men before he was killed by local police, including a concertgoer, club employee, and Damageplan bodyguard Jeff "Mayhem" Thompson. Memorials after the shootings remembered the victims and wondered at Gale's motives, while the future of Damageplan was unclear as its surviving members grieved.
~ Johnny Loftus, All Music Guide